Craving silence over social gatherings, throngs of people, or even regular urban noise is something we all desire to an extent. To be specific it's not complete silence rather it's the lack of human noise. Such as the morning sunrise revealing the crashing waves and all other noise is squashed.
There are environments devoid of all noise; an anechoic test chamber for example. There is no sound, no vibrations and everything is silent except your heart beat and breathing. A very strange sensation for our ears to have that sense removed. That is not the silence I crave.
Everything has its wonders, even darkness and silence, and I learn, whatever state I be in, therein to be content

Helen Keller
Being outdoors, far away from vehicles, people, even roads allows us to experience noise with more natural origins. From wind, rain, crunching leaves, wings flapping, water lapping all sans human noise is where I find contentment. Although, I've experienced a few locations where we have sufficient distance to eliminate all but our own noise, there is a narrower list of places in the United States that qualify as Designated Quiet Parks.
Designated Quiet National Parks
I knew about our designated dark sky parks and have visited a few. Being a suburbia dweller all my life, it really is amazing to gaze upward and really see our dazzling vast night sky.
Did you know there's also designated quiet places around the world, Here's a group of 6 United States locations under evaluation by Quiet Park International (QPI), a nonprofit, all volunteer group with a mission to protect quiet places on the earth.
Haleakala National Park, HW
Hoh Rain Forest, WA
Big Bend Ranch State Park, TX
American Prairie Reserve, MT
Boundary Waters Canoe Area Wilderness, MN
Glacier National Park, MT
The QPI team's mission is quite intriguing. They're looking to preserve wilderness and natural areas from man made noise just like the Designated dark skies is preserving a atmospheric view of the solar system from man made light.
Of the 6 places above, we have visited 2. Along with numerous other visitors we took a car up a 10000+ mountain to view the Haleakala Crater. How quiet was it? The silence from all man made generated sounds is difficult to describe.
When words become unclear, I shall focus with photographs. When images become inadequate, I shall be content with silence.

Ansel Adams
You need to bundle up to walk around and into the crater. We did not go far as it was very chilly, but there was no roads, no planes and only a few other folks out of hearing range. You are even above the clouds. This is a place where even wildlife noise would not exist.
We heard the wind and ourselves. Much like my wave crashing sunrise above where I could hear the wind and the waves.
Haleakala National Park
Glacier National Park
Our Glacier National Park visit wasn't even close to quiet because we explored areas that many other people were also exploring. However, in the northern reaches of the park the traffic dwindles and the wilderness is vast. This where I'm sure you can find the quiet area. In East Glacier we explored Grinnell Glacier Trail. It was very long day hike on a crowded trail. Along the way we caught several wildlife sightings. With the crowds, it was far from quiet, yet the image depicts no man made noise making events.
On the western side of Glacier Park is an area far north of the main visitor areas. It's distant enough to dissuade the masses from going and we made a day of it in our jeep. This lake is the entry point of backpacking trails taking you into the back country. That is where the man made noise will be sparse to none.
Outside Magazine published an article in April 2022, "The Quietest Parks in the U.S. | You need more natural silence in your life. Find it in these parks"
Until you can find an official quiet place, there are still many opportunties to observe a level of silence. Personally, I would like to sleep later than I do. But the dark early mornings are also a quiet time to read, reflect, and plan. It's quiet until Mr. Cooper, the old puggle decides it's breakfast time.
One Square Inch of Silence
A real place of silence exists in Washington's Olympic Park or as the founder of One Square Inch of Silence would call it a sanctuary for silence.
Silence is not the absence of something, but the presence of everything

Gordon Hempton, Founder
One Square Inch of Silence
Gordon has been on a quest for years testing location noise levels and specifically the absence of man made noises. The goal is to save places in nature from our noise pollution and thereby bring us back to natural quiet. A natural quiet that we are at risk of obliterating. The One Square Inch was designated in 2005 as the quietest place in the United States. It is located in Hoh Rain Forest of the Olympic National Park by a red painted rock along the Hoh River Trail.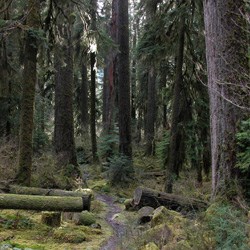 About the Photo Challenge
A weekly themed photo challenge hosted by Terri. Check out her Blog and come back and visit for more SundayStills and traveling posts!
More Sunday Still Posts
Thanks for visiting our travel blog and I hope you enjoyed finding the #SundayStills Challenge. You can join the weekly challenge by visiting our hosts blog Second Wind Leisure. and checking out Terri's post for this week, Snowy Sounds of Silence.
If you enjoy personal travel stories and especially camping, follow this blog by entering your email below. You can also follow us on Instagram @WorkingOnExploring or @Maximus.4×4.camper, and subscribe to our WorkingOnExploring YouTube Channel on for our build and trip clips. Good luck on your own exploring and we'll see you from the road somewhere soon!
Follow WorkingOnExploring travels and ongoing #SundayStills photo Challenge Posts
Delivered directly to your email inbox.